The Architecture/Art History PhD Forum is not a public lecture, but a focused, seminar discussion. Regrettably, it is only open to PhD students of the GSAPP, PhD students in the Department of Art History and Archaeology, and recently graduated Core and Mellon Fellows.
Founded by Branden W. Joseph and Reinhold Martin, the PhD Forum is an informal collaboration between the PhD programs of the Department of Art History and the Graduate School of Architecture, Planning, and Preservation at Columbia.
The PhD Forum provides an opportunity for PhD students to discuss the work of prominent academics and theorists from an interdisciplinary perspective. Invited guests briefly present on their work, focusing in part on a pre-circulated article or book chapter, from the standpoint of "method"—how they defined the questions to be addressed, in what manner they approached them, by what means they determined their critical stakes—before opening the floor to questions and general discussion from the seminar participants. These informal, focused, seminars provide an opportunity to discuss the production of intellectual material in ways that inflect, inform, and inspire students' own work.
Past PhD Forum guests include Etienne Balibar (UC Irvine, French and Comparative Literature), Gayatri Chakravorty Spivak (Columbia, English and Comparative Literature), Michael Hardt (Duke, Literature), Kristin Ross (NYU, History & Comparative Literature), Jack Halberstam (USC, English and Gender Studies), John Tresch (U Penn, History & Sociology of Science), Emily Apter (NYU, Comparative Literature and French), Ariella Azoulay (Brown, Comparative Literature and Modern Culture & Media), Susan Buck-Morss (CUNY, Political Philosophy), Arvind Rajagopal (NYU, Media Studies), and Devin Fore (Princeton, German).
Organizers:
Rachel Hutcheson (Email: rlh2172 at columbia dot edu)
Heather Wooley (Email: hlw2125 at columbia dot edu)
Sam Stewart Halevy (Email: ss5184 at columbia dot edu)
To attend, please RSVP to the organizers with the word "forum" in the subject line of the email. Students who have reserved a spot will receive an electronic copy of the reading material in advance.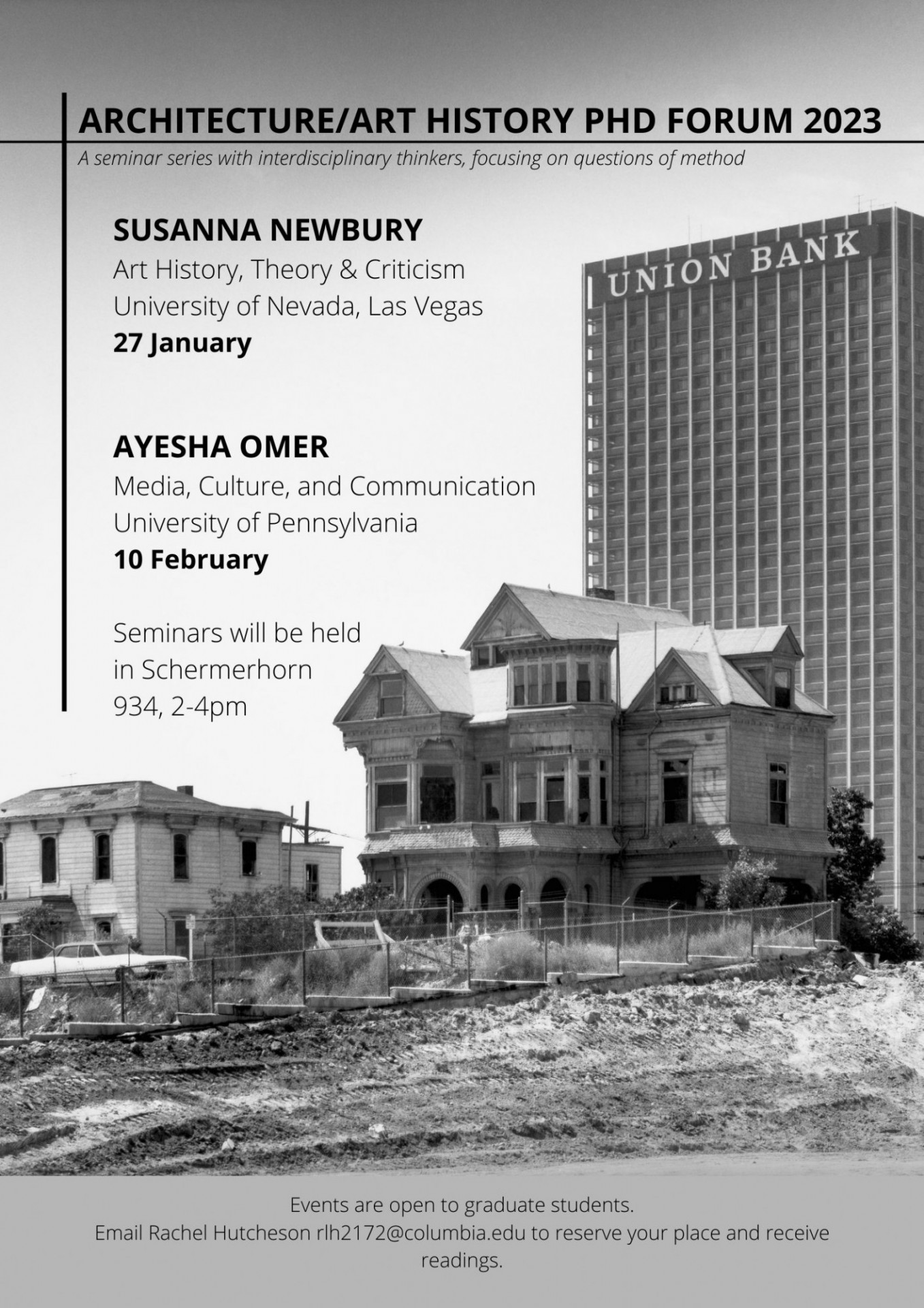 There are no upcoming events.